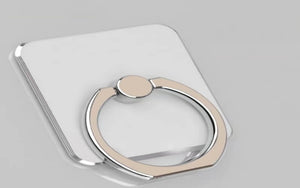 6 Reasons Why You'll Love MagSafe Finger Loop
Do you know the MagSafe finger loop? If you don't know, then this article will give you a detailed introduction. Maybe after reading this article, you will find that you deserve a MagSafe finger loop for your iPhone.
1. What is MagSafe Finger Loop?
This is the first thing you need to know. MagSafe Finger Loop is a mobile phone accessory that supports the iPhone MagSafe charging function, it is magnetically attached to the back of your iPhone, then run one or two of your fingers through the loop to secure your electronic device to your finger. To be precise, it's a MagSafe phone loop.
2. Six Reasons You'll Love a MagSafe Finger Loop.
The MagSafe finger loop has many functions or aspects that can provide you with convenience. The following 6 aspects are summarized by me after researching several major finger ring brands, which are the advantages of the MagSafe phone loop currently on the market. Of course, not every phone loop has all of these advantages at the same time.
2.1 Compatible with the MagSafe function
Without a doubt, the MagSafe function is the biggest advantage of this type of phone loop. Loops that are compatible with the iPhone MagSafe function are generally made of magnetic materials, which are magnetically attached to your electronic device, so the installation method is simple, fast, and hygienic. You can also take it off at any time, and it only takes a few seconds to complete the process of installation and removal.

The MagSafe finger loop will not affect your iPhone's wireless charging capabilities. All you need to do is place the MagSafe charger lightly and your electronic device will start charging.
2.2 Thin and light enough
Since the MagSafe finger loop is made of magnetic material, it is necessary to ensure that it is thin enough to ensure that the quality is very light and it is more convenient to carry. For example, The New MagOne finger loop is only 0.67 inches thick. The MagSafe finger loop is thin and light enough to keep your iPhone in your pocket.
2.3 Can be used as a phone stand or grip
Most finger loops can also be used as a phone stand or grip. Such as MagOne, Ohsnap, and so on. As long as the folded hoop or ring cake is unfolded, it can be used as a phone stand.
Image Source: ohsnap.com
2.4 Height-adjustable, retractable
If you want to use the phone stand function of the finger loop, you just need to unfold it. And you can adjust the height of the holder through the unfolded radian, and it can be stretched freely. Adjust the stand to the angle that suits you, and then you can enjoy the fun of video calls or TV variety shows.
2.5 Comfortable contact material
When you use the MagSafe finger loop, your fingers will be in direct contact with it, and it may remain for a long period, which will inevitably cause pain or discomfort to your fingers. Therefore, the material where the finger loop and your finger touch must be comfortable, even if it is hard, its surface needs to be very smooth. Most finger loop brands will take this into account, so you don't have to worry about it. According to my investigation and comparison, the loop material made of silicone is the best, it is very soft.
The New MagOne finger loop model uses the best silicone material - liquid silicone, your fingers will feel very smooth and comfortable when touching the ring. Liquid silicone is also used in many accessories produced by Apple, such as iPhone cases.
2.6 Compatible with other MagSafe phone accessories
The MagSafe finger loop is compatible with other mobile phone accessories that support MagSafe functions, such as MagSafe car mounts, MagSafe phone cases, MagSafe wallets, etc. When you drive, you can fix your electronic devices in your line of sight, so that driving will be safer. Therefore, you don't have to worry about conflicting with your other phone accessories after you buy the MagSafe finger loop back, you can use them at the same time.
After reading this, do you have any other questions about the MagSafe finger loop? These six reasons are enough to make you fall in love with the multifunctional  iPhone finger loop with MagSafe function. I believe that soon, the brand factory will develop more functions and apply them to the MagSafe finger loop, let us look forward to it together.
---