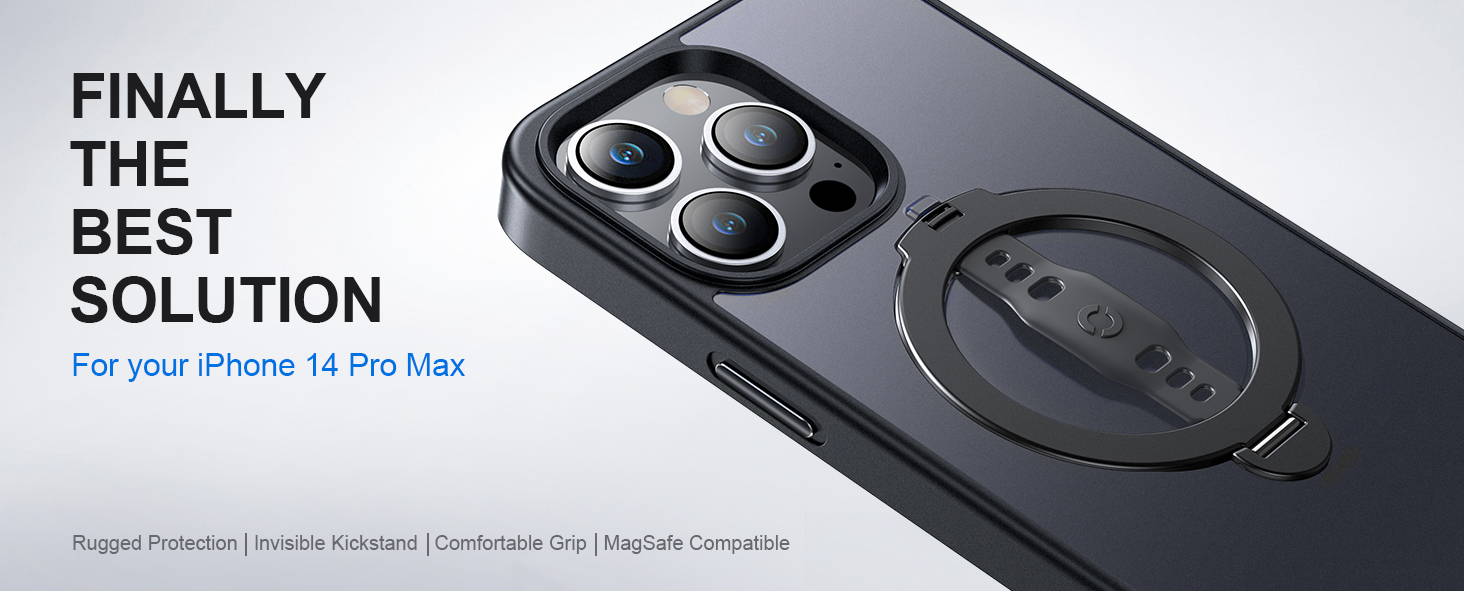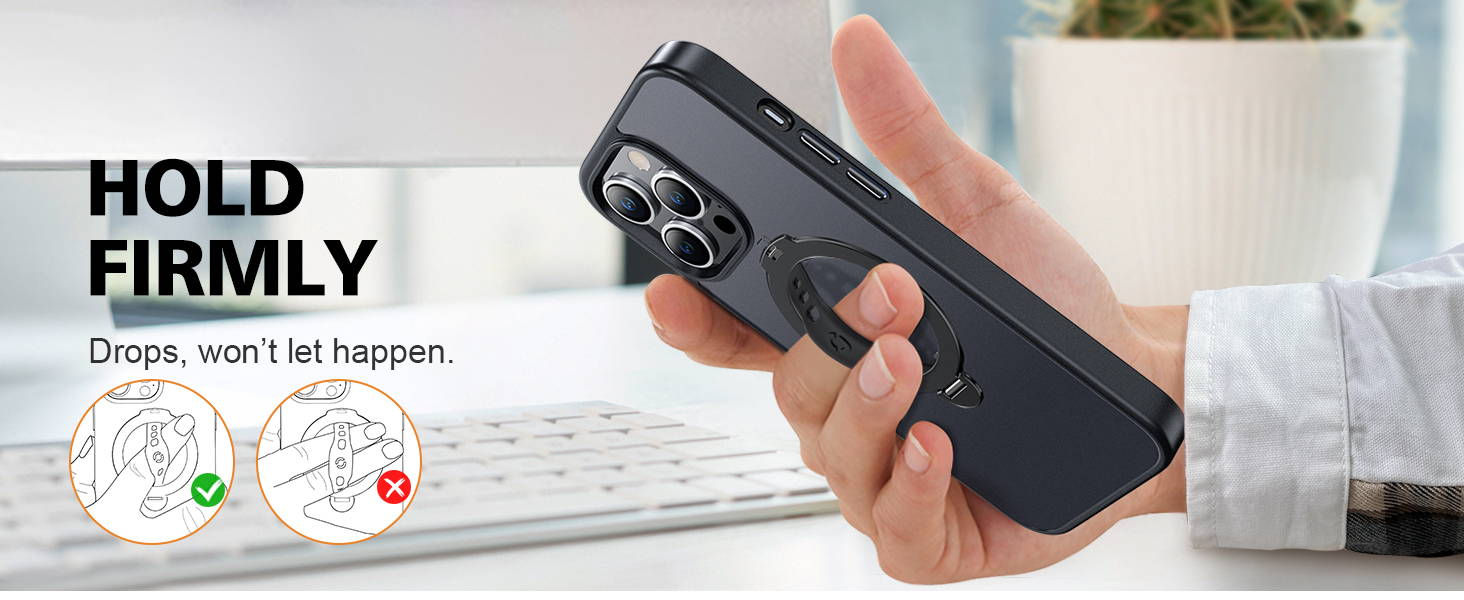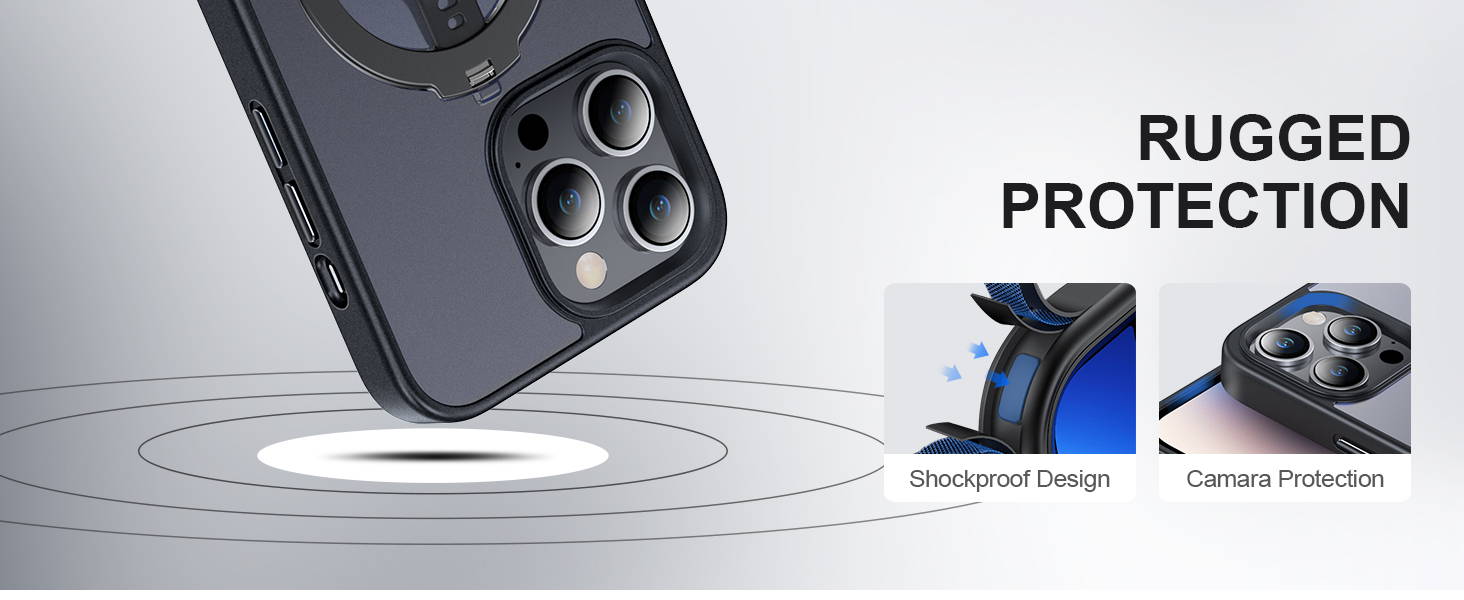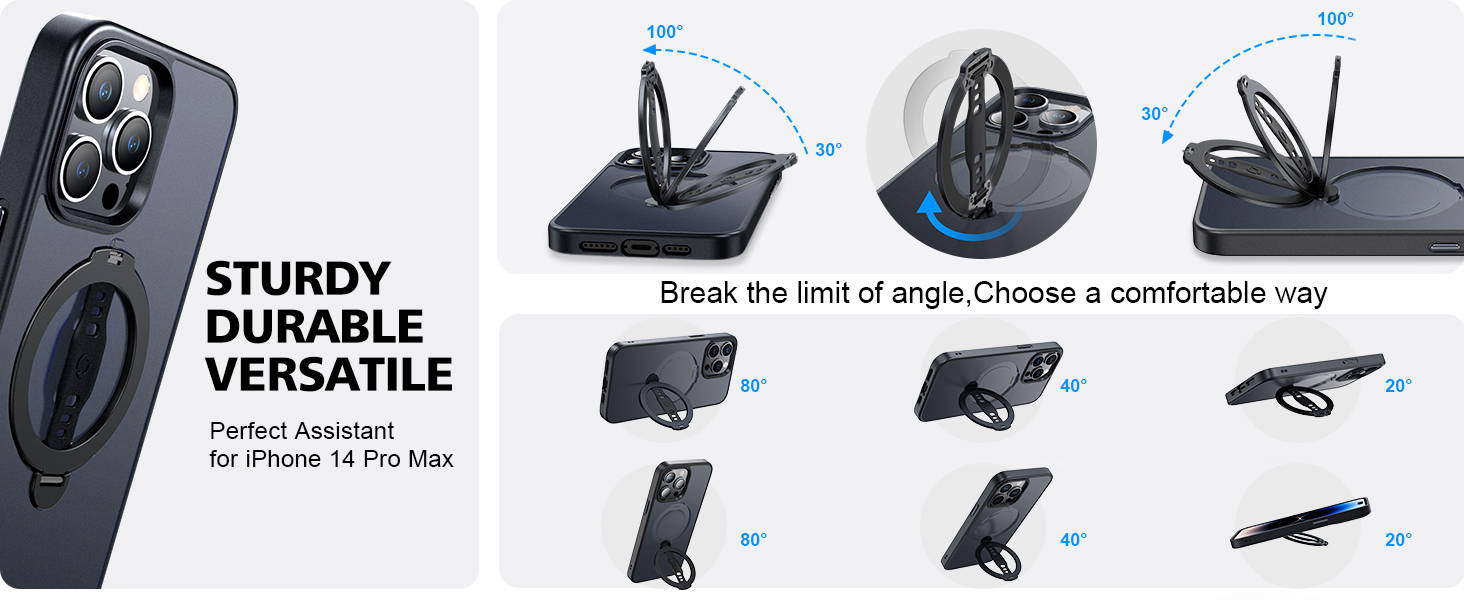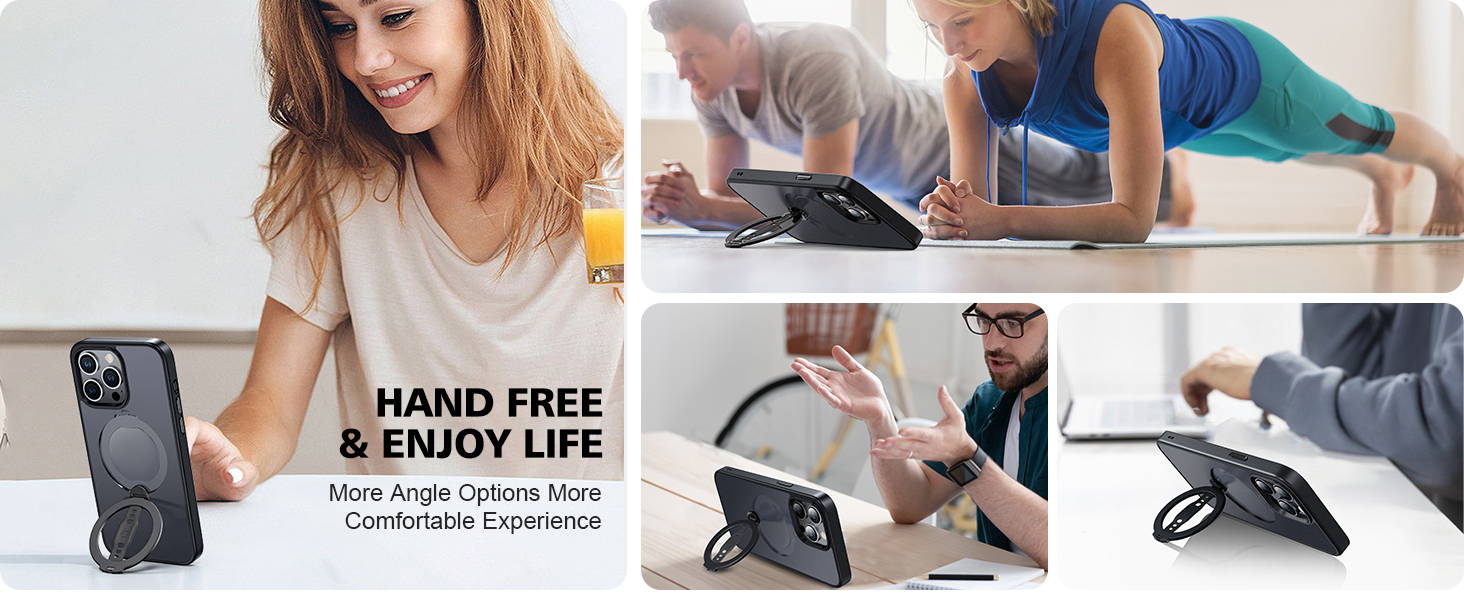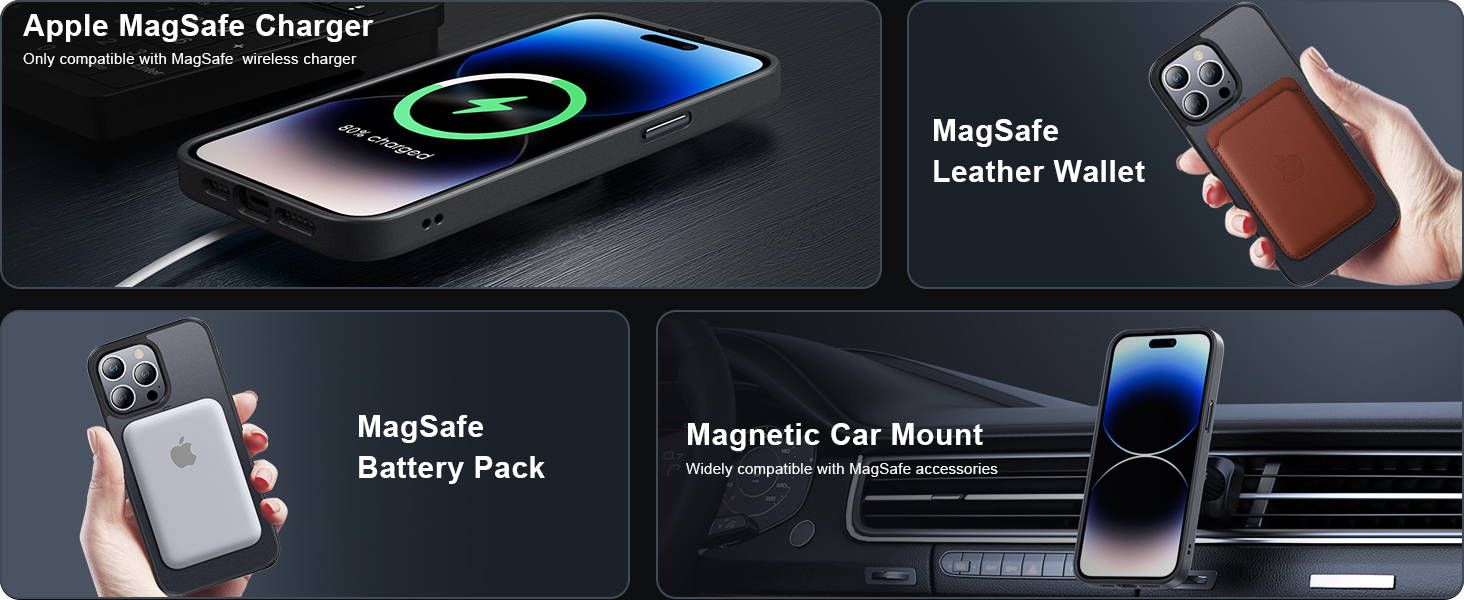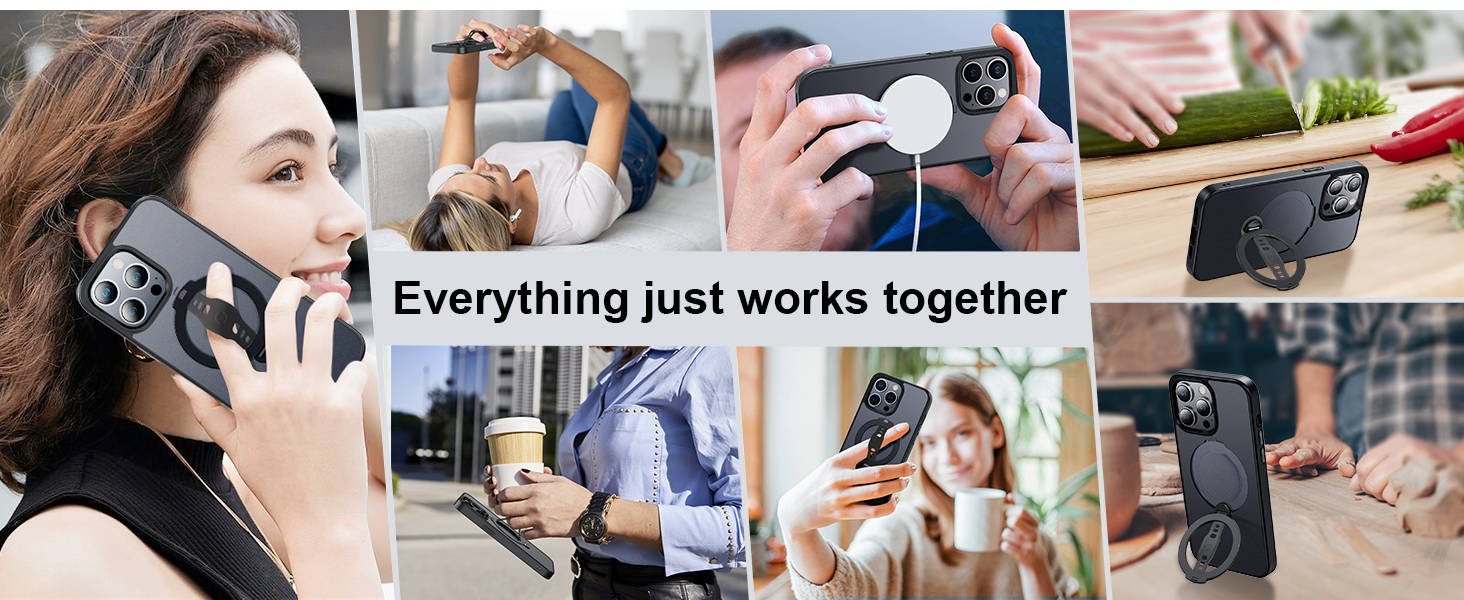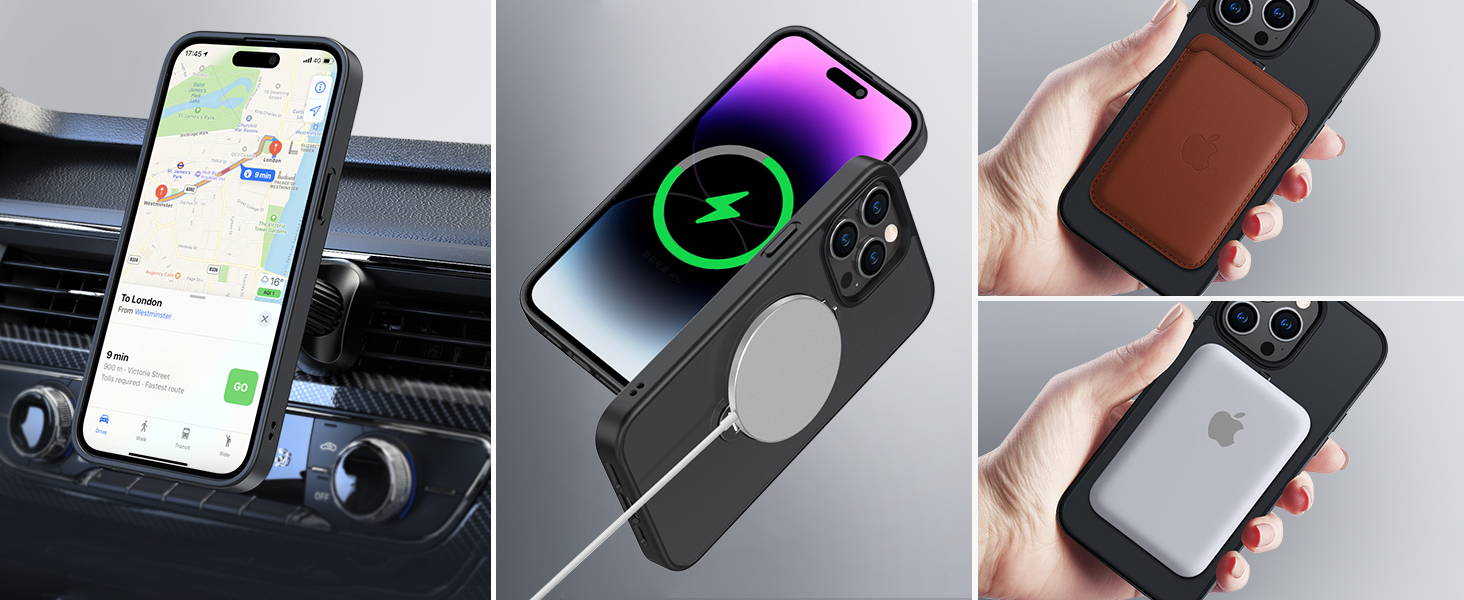 Dimension
4.5 x 3.87 x 0.87 inches
Zinc Alloy Silicone N52 magnet
iPhone 13/13 mini/13 Pro/13 Pro Max
iPhone 12/12 mini/12 Pro/12 Pro Max
Or coming newer series
With a magnetic case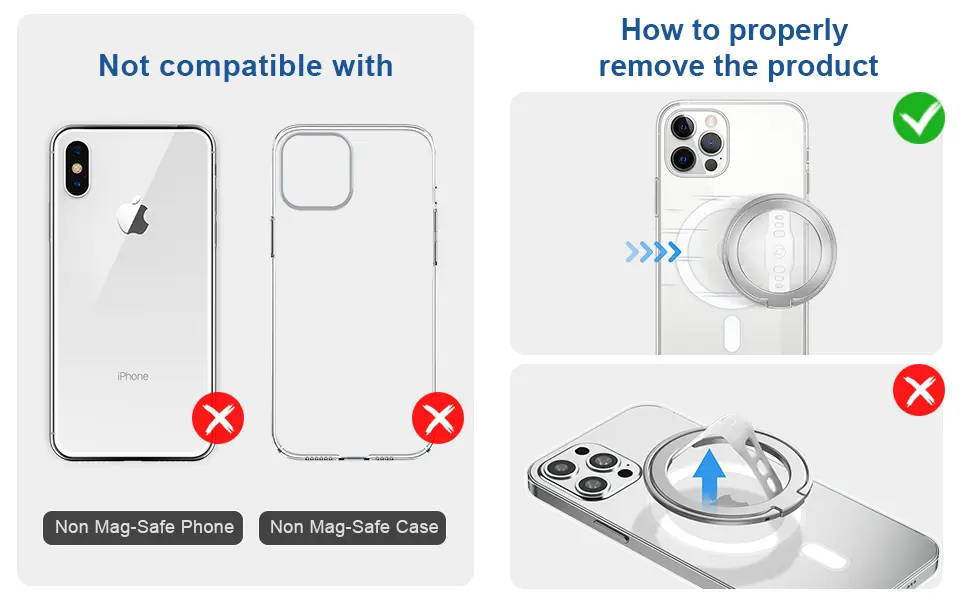 Not compatible with non-magnetic phone cases, it will cause a weak connection.

Do not forcefully swing your phone with the ring holder on as the company will not responsible for damage from misuse of products, including but not limited to falls or intense movement.

You don't need to remove the grip when wireless charging, but please make sure: a. Use a magnetic case which thickness no more than 1.5mm (while most of existing products works good through our test, please make sure this when you need the feature work properly.) b. Use a magnetic wireless charger but not normal desktop wireless charging pad. We've tested that most of existing magnetic wireless charger will work well, but if the charger power is too weak, you may need to remove the grip before charging, therefore, a minimum of 20W wall adapter is required.

We covered a silicone loop pad on the back side of the phone grip, but it still may scratch the back of your phone case. Thus we prepared a film case-back protector to avoid this issue, make sure to stick the film on.

Please follow the guide to properly remove the ring grip from your phone, incorrect methods may cause damage of the silicone strap.
【

Multi-Function Magnetic Phone Accessories

】

Elaborately designed by EWA, the MagOne Series multifunctional phone cases are specially built for iPhone 14 Pro Max. One phone case for three functions. As a phone case - Protect the phone from falling collision damage; As a phone stand - Be portable with you, hands-free, convenient for video and facetime in work and life; As a phone grip - Easy to hold the phone with one hand, not easy to slip off.

【

Sturdy Phone Protection

】

The magnetic phone case and lens frame are made of soft TPU material, the back is translucent polycarbonate material, the feels as comfortable as baby skin but not easy to slip out of the hand, the special cushioning structure design at 4 corners, we tested thousands of times, it could protect the iPhone from various daily drops, bumps and scratches. Using German precision equipment and Integral molding technology, the size is more accurate, and it fits better with the phone.

【

Adjustable Phone Stand

】

The MagOne series iPhone cases are specifically built for iPhone 14 Pro Max, The ring kickstand of the case back is made of aerospace-grade aluminum alloy, lightweight sturdy and durable. 360°rotation for multi-angle adjustment in portrait and landscape mode, and the kickstand ring could fold back into the groove when unused. It provides the best viewing angle for your eyes so you can enjoy watching your favorite TV shows or Facetime with your family.

【

Surprising Phone Grip

】

The EWA Magone series case is also a phone grip. EWA R & D department innovatively designed a soft silicone strap grip in the ring kickstand of the case back, with an exclusive patent. Finger through the silicone strap, which helps to hold the iphone comfortably with one hand without feeling pain.

【

Compatibility&Magnetic

】

EWA Magone Series iphone case will work with any other MagSafe-enabled accessories, wall mount, car mount, MagSafe charger etc. (Note: Only support Apple Offficial original MagSafe charger for wireless charging.)

【

EWA Support Promise

】

Any problems or concerns about the product while using this iPhone 14 Pro Max case, please feel free to contact us via the Amazon Message Center, our professional and efficient service team promises to solve your problems within 24 hours.
【What's in The Box】The New MagOne Phone case *1, Replacement silicone strap *3, User Manual *1
Dimension
7.17 x 3.98 x 0.59 inches
Polycarbonate, Thermoplastic Polyurethane