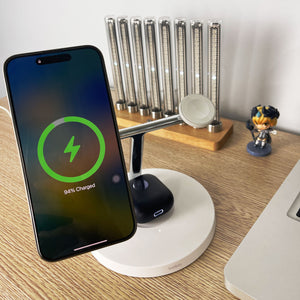 Does the magnetic phone case affect the phone?
There is a well-known common sense: magnets are harmful to electronic equipment.
This comes from the effect magnets have on older electronic devices, such as CRT monitors and televisions. If you place a strong magnet near one of them, the picture will distort and sometimes become wacky.

However, most modern electronics, such as our smartphones, use smaller magnets, such as speakers, cameras and vibration modules, none of which would work without magnets. Even the magnetic induction wireless charging system Magsafe is used from the iPhone 13 onwards to ensure that the device is aligned with the charging stand.

That's why most of the time, even if they have magnets, they're safe to use with your phone and tablet.

However, be careful when choosing a magnetic phone case. Cheap or poorly designed phone cases may contain stronger magnets that may interfere with your phone's functionality. Therefore, it is imperative to choose a high-quality case from a reputable manufacturer to minimize any potential risks.

How to choose a magnetic case:
1.Protect

Any phone or tablet case, whether magnetic or non-magnetic, is designed to keep your device safe from harm. Most magnetic phone cases feature professional construction with heavy-duty materials.

So if you accidentally drop your phone or tablet, a magnetic case will protect it better. Look for cases with this type of protection in mind, and always look out for water or shock protection.

2.Style

Magnetic enclosures come in a variety of different appearances. Some are very simple, while others are much more complicated. Many also come in a variety of patterns, colors and designs.
A phone case is just as important as your clothing, it is one of your looks and your taste, don't just settle for a boring look, do your research to get a color or look that best reflects you.

3.Feature

Additional features of magnetic cases usually include built-in kickstands, finger loops, the ability to hold cards and wireless charging, among other things.

No matter what extra features a phone case has, the purpose needs to be to make life easier. There are many cases on the market that look great but are inconvenient to operate and will make your life more difficult.

Case as a whole should not be too thick or heavy. It should slide in and out of your phone with ease, while still giving you easy access to the different ports.

If your phone supports Magsafe wireless charging, the case needs to be there too. Otherwise, it will be very troublesome to remove the case every time you charge it.

The built-in bracket is also a very good feature, but it should not take up too much space, and it should not be too thick to affect the use.

If your phone is iphone14 pro max, with Magone Magsafe Phone Case, you will have the perfect combination - the best looking phone case and car mount, the strongest protection and a strong connection between the smartphone and the mount, the built-in 360° stand, built-in Phone grip, and no unsightly sticking to the metal plate.

In conclusion, magnetic phone cases are gaining popularity, and for good reason. They pose minimal risk to your smartphone when purchased from a reputable manufacturer and used properly. With their convenience, added features, and compatibility with wireless charging, magnetic cases can enhance your smartphone experience without damaging your device.

Remember to prioritize quality when choosing a magnetic phone case, and make sure it doesn't interfere with your device's core functionality. With the right balance of convenience and discreetness, you can enjoy the benefits of a magnetic case while keeping your beloved smartphone safe and secure.
---