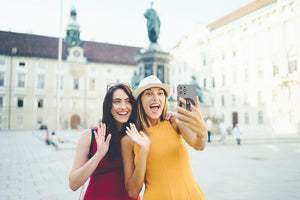 The best travel phone stand you deserve in 2023.
If you are a travel enthusiast, then you should equip your mobile phone with a phone stand to ensure the safety of the mobile phone during travel. 2023 is coming, and with the development of the COVID-19 epidemic in a good direction, the tourism industry in 2023 will gradually recover. A good travel phone stand will be your must-have phone accessory. 
What needs should a travel phone stand meet?
What kind of travel phone stand can be considered the best? Of course, it has more functions and can meet most of your needs. So where is it? Don't worry, let's talk about what you should consider when you choose a phone stand for travel.
Good portability
I think portability is the first factor you should consider when choosing a travel phone stand. Because when you travel, you just want to carry fewer items to make you relaxed. You don't want to put a relatively large phone holder in your luggage, it takes up too much space. So you should choose a mobile phone holder with good portability, which will not cause trouble to you when you travel, it can even be easily placed in your pocket.
Easy to use on high-speed rail or cars
When you travel, if the distance is far away, there is a high probability that you cannot avoid taking the high-speed rail, and you may also drive by yourself. During the hours-long car ride, you will use your phone to watch wonderful TV dramas or shows because you are bored. At this time, you require that you can place your mobile phone stably. Hanging the phone on the back of the seat seems to be a good solution. You can free your hands, and you can also enjoy delicious snacks. Therefore, your travel phone holder should be easy to use on the road.
A gentle reminder, the driver shouldn't watch the mobile phone or other electronic displays for a long time to avoid accidents.
Functions as a phone grip
Some phone holders for travel have the characteristics of two-in-one, which can be used as a phone holder and a phone grip. The phone kickstands produced by MagOne generally have comprehensive functions. In fact, the grip function is very necessary.
For example, when you take a high-speed rail or public transportation, you should use the grip function. You may fall asleep when you grip your mobile phone, it will not fall when you sleep, if a thief has his eyes on your phone, then he can't take your phone easily because your phone is connected to your finger. For another example, if you take a selfie in public and use the grip function when someone accidentally bumps into you, your phone will not fall easily. Wouldn't you be sad if your iPhone was dropped and scratched? Phone grip greatly increases your sense of security.
Compatible with MagSafe charging function
The iPhone 12/13/14 series has developed the MagSafe charging function. When you travel, it is very convenient to equip a MagSafe charger in your bag, and when the phone is out of power, it will instantly power up your iPhone. If the travel phone stands you choose, it doesn't support MagSafe chargers, that's bad, and you need to remove the phone holder when you charge it. Most phone holders on the market are not compatible with the MagSafe function. So, please pay attention to this when choosing an iPhone travel stand.
Image source: macrumors.com
Easy to take pictures
Taking pictures is unavoidable when traveling. It's nice if your travel phone stand helps you take better-looking photos. As I mentioned earlier, the grip function can help you take selfies.

When we need a big group photo, the effect of holding the phone selfie may not be so good. At this time, if you can fix your phone in a certain position, such as hanging on a tree, all people only need to keep a certain distance from the mobile phone, and you can achieve a better group photo effect.
Recommended travel phone stand in 2023
If you're considering a phone holder for travel, The New MagOne is a solid choice. It can meet almost all your needs.
The New MagOne attaches to your phone magnetically. You unfold its outer ring, and it can become a phone stand or hook. Slide your finger into the silicone strap in the middle of it and it's a MagSafe ring grip. The thickness of The New MagOne is only 0.67 inches, which has very good portability. Choose The New MagOne, you deserve this best travel phone stand of 2023.
---